Program frequency of reminders and trigger threshold alerts
Windows Player: Starter, Pro, Premium
Web Player: Not available
LG webOS Signage Player: Starter, Pro, Premium
Samsung SMART Signage Platform (SSSP / Tizen) Player: Starter, Pro, Premium


Important: You need to have the appropriate permissions to be able to program the timing of reminders and threshold alerts. These settings must be configured individually for each player.
1. Go to the "Edit Player" window
To get to the "Edit Player" window, scroll over the gear icon beside the name of the media player under "01 Select a Screen."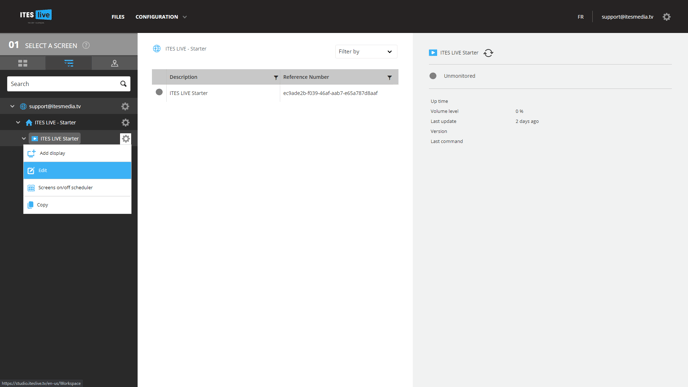 2. Go to the "Alerts" tab
Click the "Alerts" tab.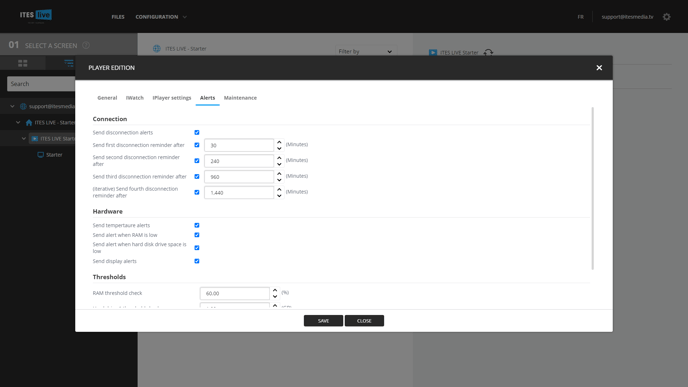 3. Configure the alert settings
Connection
These settings let you define the length of time between each disconnect reminder.
Hardware and thresholds
This section lets you select which types of hardware alerts to be sent to you by this player. You can also program the trigger thresholds for these alerts.