Windows player: Starter, Pro, Premium
Web player: Starter, Pro, Premium
LG webOS Signage Player: Starter, Pro, Premium
Samsung SMART Signage Platform (SSSP / Tizen) Player: Starter, Pro, Premium
Brightsign Player: Starter, Pro, Premium
Android Player: Starter, Pro, Premium
Linux Player: Starter, Pro, Premium
macOS Player: Starter, Pro, Premium
When you creating an account, the display will automatically be set to landscape orientation and a resolution of 1920x1080. Obviously, if we have created custom screen frames for you and you have asked for another resolution, the preprogrammed settings are the ones that will be there by default.
1. Select the screen whose resolution you wish to change
At step "01 Select a Screen," choose the display whose resolution you will be changing.

2. Open the screen settings
At "02 Select a Zone," click the gear icon.

3. Changez la résolution
For example, if you wish to change the screen to portrait mode, select 1080x1920. When you are done, click "Accept."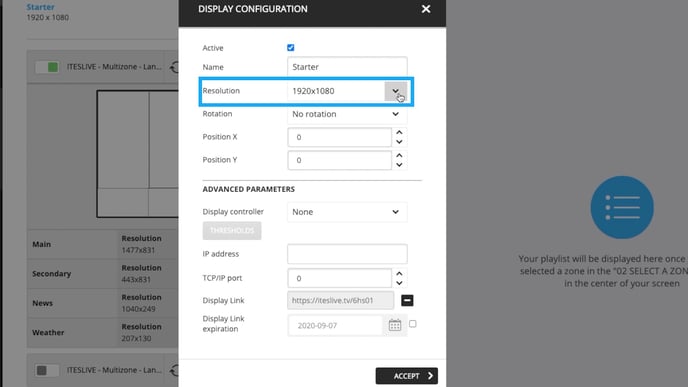 Caution: You may also be required to configure the resolution of your screen, especially if you have changed the orientation. See the user guide for your screen if you require further information.
4. Add a screen frame that matches the new resolution
Once you have changed the screen resolution, don't forget to select a screen frame with the same resolution. To proceed, you can: