Windows player: Starter, Pro, Premium
Web player: Starter, Pro, Premium
LG webOS Signage Player: Starter, Pro, Premium
Samsung SMART Signage Platform (SSSP / Tizen) Player: Starter, Pro, Premium
Brightsign Player: Starter, Pro, Premium
Android Player: Starter, Pro, Premium
Linux Player: Starter, Pro, Premium
macOS Player: Starter, Pro, Premium
Note: The Pro and Premium versions also let you create different roles. This feature makes it easy to manage users with the same permissions.
For more information on user permissions and how to set them up, scroll down to the bottom.
Click here to find out how to add users.
1. Accessing the user management interface
1. In "01 Select a Screen" on the left, click the icon in the middle to show the file tree.
2. Choose the group account where you wish to manage user permissions.
3. Click the gear icon to the right of the account.
4. Click "Users."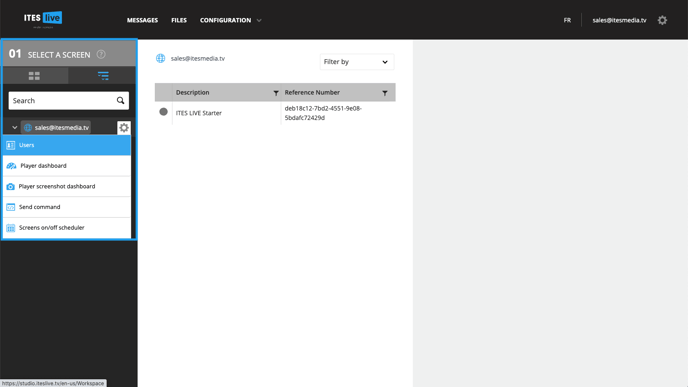 2. Managing your users' permissions
1. On the left, select the user whose permissions you wish to manage.
2. Click the Permissions tab on the right.
3. Tick the desired permissions.
4. Save your changes by clicking the diskette icon at the top right.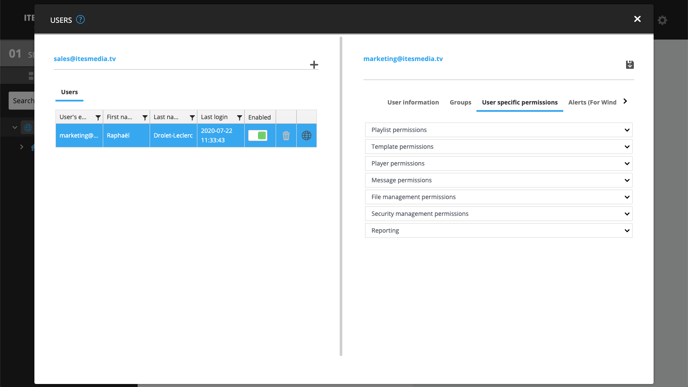 Caution: To execute the changes, the selected user must log out and log back in.
Permissions
Playlists
Edit playlists: Lets users add new content and change existing content in playlists assigned to the various zones on the screen.
Manage playlists: Lets users manage playlists. This is one of two prerequisites (the other being "Create clips from a playlist") for being able to create playlist clips.
Edit master clips: Lets users change settings (length, start/end date, etc.) for the zone template, which divides the display into several different zones.
Create clips from a playlist: Lets users create playlist clips.
Create web page clips: Lets users create web page clips, Vimeo clips or YouTube clips.
Add/edit zone templates: Lets users add new zone templates and edit existing ones.
Create weather clips: Lets users create weather clips.
File management
File management access: Gives users access to the file management interface from the toolbar at the top of the Studio window. This is separate from clip creation permissions and can be used by those who need to upload visuals but are not authorized to use content creation features.
Upload files: Allows users to upload media content.
Delete files and folders: Lets users delete files and folders that are no longer in use.
Create folder: Allows users to create and edit folders.
Share folders: Lets users share folders with other users.
No storage restrictions: This disables disk space limits for Studio users. Note that ITESLIVE comes with free unlimited storage space.
Security management